This Week's Program
"Progress as Promised: A Review of 2014 as We Prepare for 2015."
This Friday, we are privileged to welcome Mark Evans, OPS Superintendent to our Friday lunch meeting. Mr. Evans
will share information on the district's new strategic plan, recently approved bond issue, enrollment trends, student achievement, and graduation rates.
Come and bring a friend!!
Program Coordinator
Mark Hoeger
YCPO Spotlight
Children's Respite Care Center, Meghan Walls
President's Column
Dear Kiwanian,
Think about the people you know: Friends, relatives, members of a church or other volunteer organizations, neighbors, clients, business associates, and former business associates.
Now think about our Kiwanis Club, along with its mission and activities. Maybe some of the people you know fit our club. And maybe some of those people would benefit by bringing their unique abilities to the club.
You have the power to make our club stronger by recruiting the people you know. Please do our club a favor by spending five minutes each week to think of someone who might fit. And then ask that person to a Friday meeting, a volunteer activity, or a social activity. Someone may thank you for it.
Thanks,
Brian
Greeters
Bob Kenny, RBC Wealth Management
Chuck Kinzer, Omaha Print
Dave Kirkwood, Tenaska
Upcoming Friday Programs
February 6th - Ruth Meints, CEO, Omaha Conservatory of Music

February 13th - John Nelson, Reflections on Lt. Governor and Unicameral
February 20th - Jack Becker - Executive Director and CEO, Joslyn Art Museum
February 27th- Andrew Norman, Executive Director, Hear Nebraska
March 6th - Dr. Mary Hawkins, President, Bellevue University
March 13th - Eric Stueckrath, President, Outlook Nebraska
March 20th - Gil Cohen, EVP Sales & Marketing, Omaha Magazine
March 27th - John Vyhlidal, ConAgra
April 3rd - NO MEETING- Good Friday
April 10th - NO MEETING - Day after Gala
Last Meeting
At our last meeting, we welcom
ed Martie Cordaro, President and General Manager for the Omaha Storm Chasers. Mr. Cordaro shared with us some of the history of the Storm Chasers and minor league baseball and some statistics about attendance, income and team wages. Mr. Cordaro was especially excited to share with us about the 2015 All-Star game being hosted at Werner Parks. Opening day is April 17th!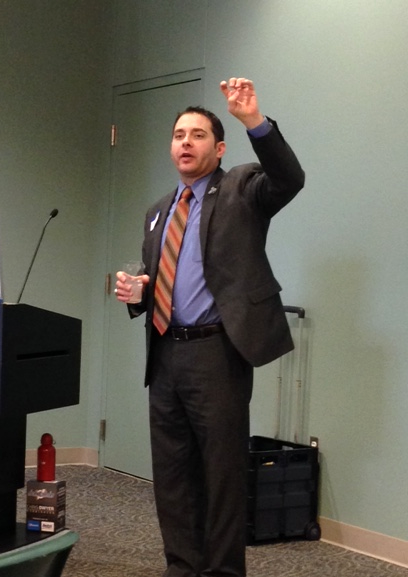 YCPO Spotlight
Karen Smolinski from Holy Name School was also with us last Friday to share with us about the success their school has had in improving reading scores using table computers. They purchased new tablet computers for their resource room with the money they were granted last year with the 2014 YCPO grants. Ms. Smolinski was extremely grateful to our club.